---
International Champion, Swedish Champion, Austrian Champion, Clubchampion, Austrian Winner '06
Best of Breed, Best in Show Winner
Trollängens Blues
"Lena"
---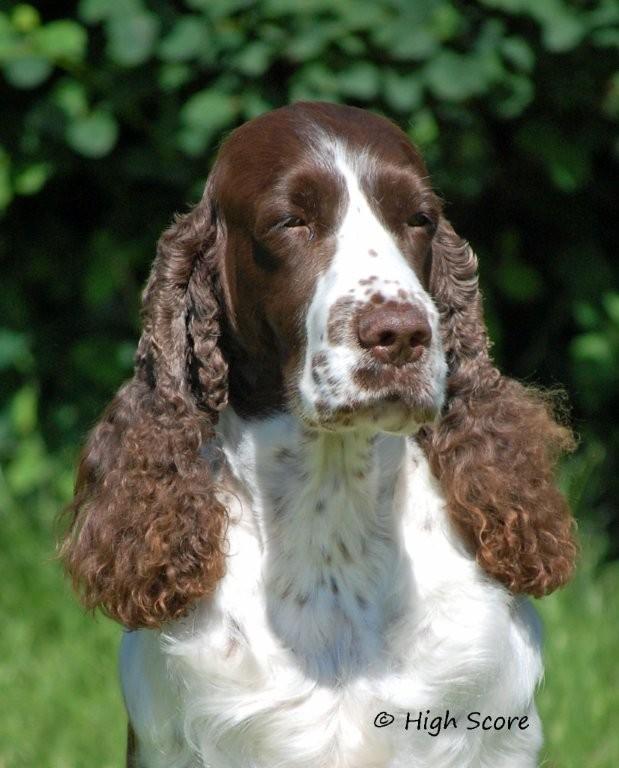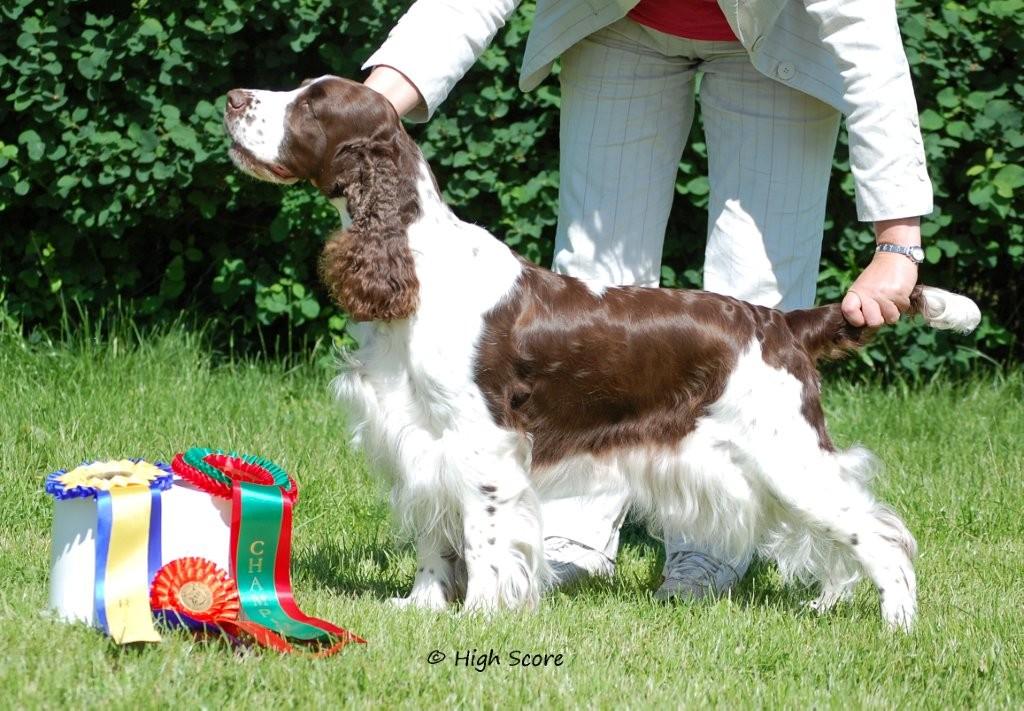 born: 02. 04. 2004
Hips: A (best hips possible)
Fucosidosis DNA-tested: free (no carrier)
eye- testing (incl. gonioscopie) on Nov. 02, 10:
free of all hereditary eye-diseases
DNA-test for GPRA cord1 mutation: free (no carrier)
Lena is a very happy girl always full of joy and engery. The most wonderful for her seems to be to run around in the woods and in the fields. The water is her bit passion and so we very often return home from our daily walks with a wet Lena, regardless of weather and season.
She loves all people and dogs she meets and expects everyone also to love her.

Although Lena is a very active dog she is a calm and easy-going companion inside the house and in daily life.

Our lovely Lena was up to now very successful in the show ring: She has won CCs in Sweden, Germany, Austria and Croatia and was as well BEST OF BREED in these 4 countries.

Lena is a BEST IN SHOW winner, archived several group placements at international all breed shows
and has won over 10 CACIBs so far.
She is International Champion, Swedish Champion, Austrian Champion, Klubchampion, and Austrian Winner 2006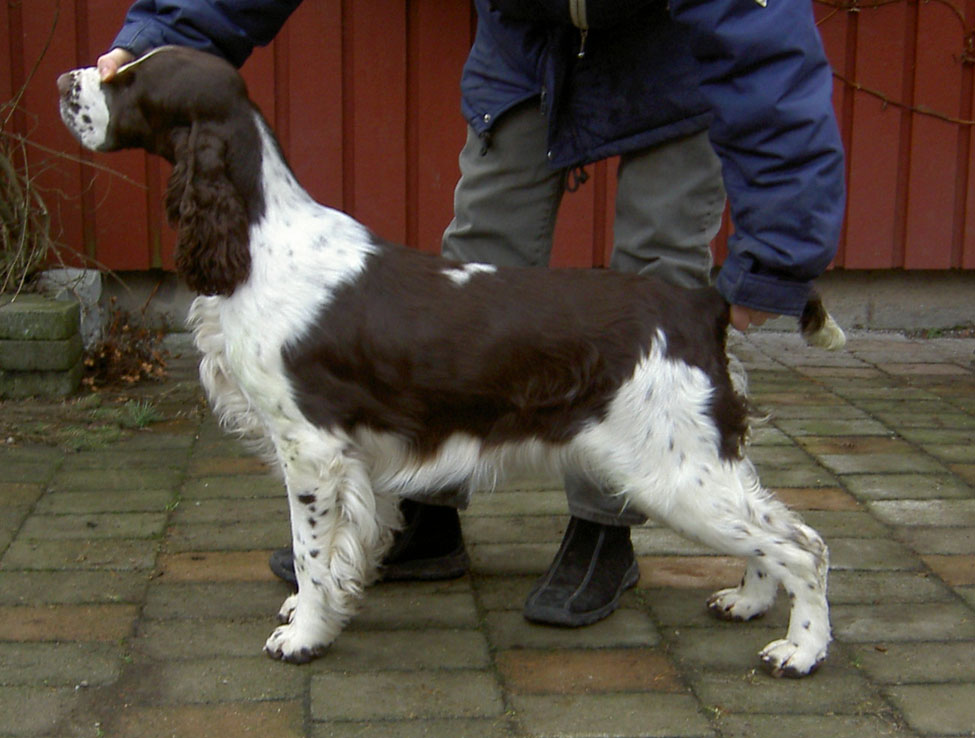 ---
Some examples of judge reports Lena got:
---
Maria-Luise Doppelreiter, A: very beautiful liver/white bitch, feminine had with excellent expression, excellent neck and back-line, excellent angulations, strong body, happy movement with good drive, correct coat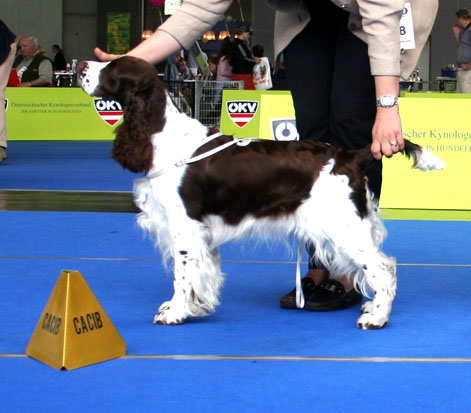 Svend Lovenkjaer, DK:Lovely type and size, superb springer lines, very classic expression, long neck and good back, very good front-chest, lovely legs and angulations, moves very typical and harmonic, a bitch in super balance and of very high quality.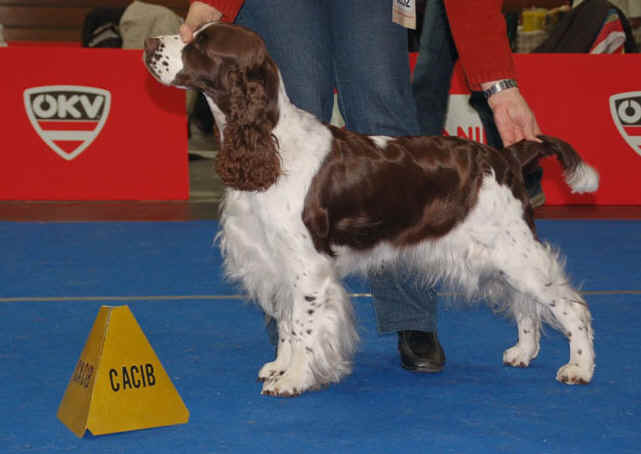 Peter Berchthold, A: excellent built up, feminine bitch, excellent head and expression, good eye-colour and pigmentation, correct neck, strong and short back, strong and well muscled body, correct shoulder, upper arm is a little bit straight , good back angulations, excellent body-proportions, strong bones, good paws, superb movement, good coat, good temperament and expression, good eye-colour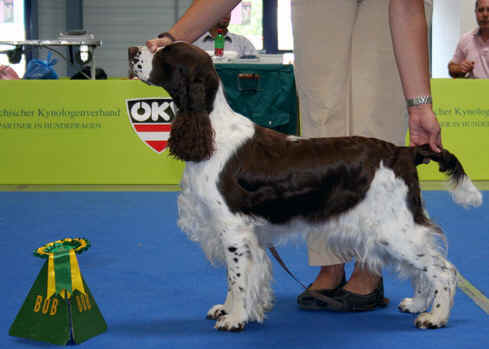 Lena - 15 month old being Best of Breed and BIG-3 in Sweden under
breed specialist Annika Ultweit-Moe (kennel Whisborne):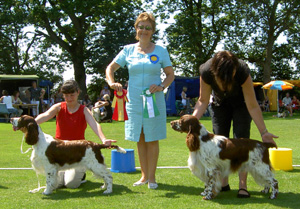 Lena's pedigree:
S-Ch, N-Ch. SV' 02
Barecho Fun for the Future
HD A

Nord.+S. +Lux. Ch, W'sgr. 00, Nord.V'00+01
Whisborne Angus Og
Nimblewhit Flower Power
Adamant's Special Colours
N.Ch, S.Ch, SVCh, SV'99
Barecho Pretty Picture
Rowntree Legal Alliance
Nobhill Scarlet o'Hara

Trollängens No Doubt
HD A

S-Ch, N-Ch.
Trollängens Rebel Rouser
Inu-Goya Jazzman
Whisborne Spot On
S-Ch.
Trollängens Ann of Green Gable
Spring Creek's Extra Dry
Trollängens Contessa
A very big THANK YOU has to go to Anette and Sara for letting move this gorgeous English Springer girl to Salzburg!
Tack så hemskt mycket Anette och Sara!