---
---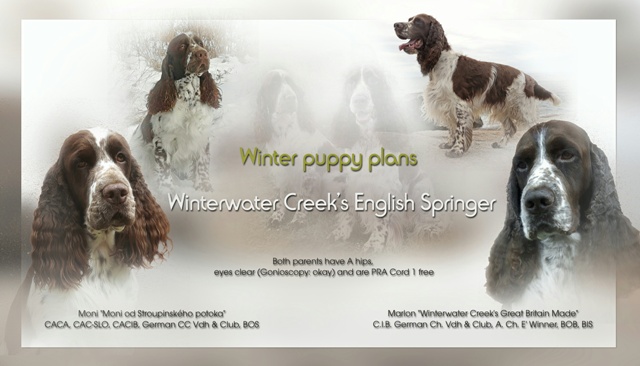 Moni's puppies have arrived:

In the early morning of January 18 we welcomed 4 handsome boys and 6 lovely girls!

Moni and her 10 puppies are doing very fine.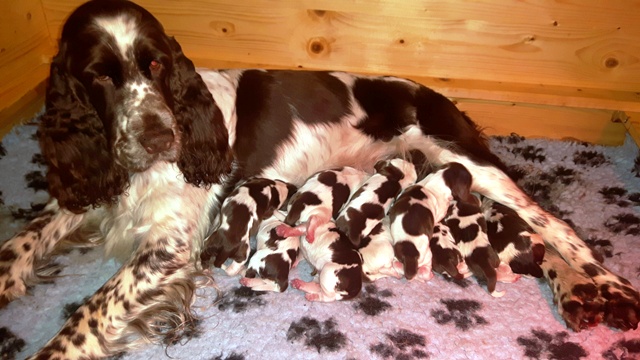 A first family picture after the birth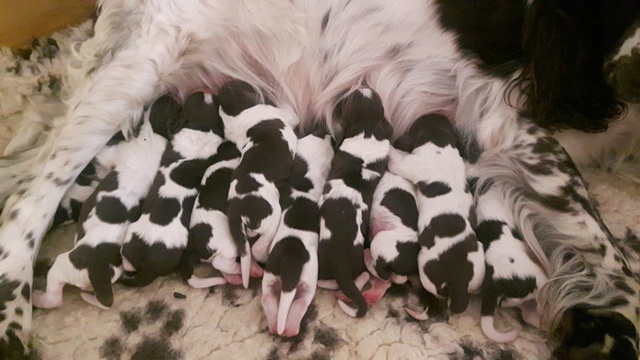 The little ones - one day old
it's quite busy at the milk - bar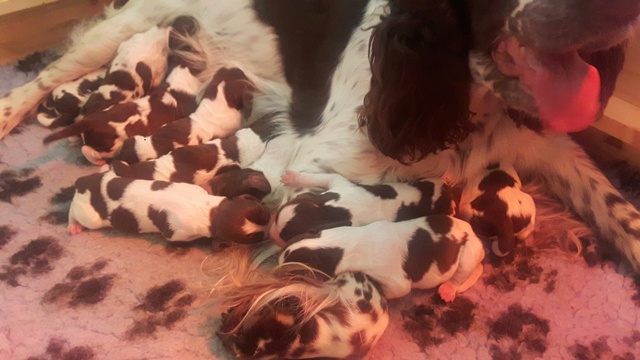 Moni od Stroupinskeho Potoka
hips:A
eyes tested clear (incl. Gonioscopy)
PRA-Cord1: no carrier

CACA, CAC-SLO, CC - German Ch. VDH & Club, Crufts Qualification
CACIB, BOS, Crufts Qualification

Winterwater Creek's Great Britain Made
hips: A
eyes tested clear (incl. Gonioscopy)
PRA-Cord1: no carrier

Int. Ch, A. Ch, Club Champion German Ch. Vdh & Club, Spaniel of the year
European Winner, European J. Winner, Clubwinner - A' Winner
Moni and Marlon are two lovely, healthy and very typical English Springer Spaniels with a wonderful temperament.

Marlon was shown with great success in Austria, Germany, Switzerland, Slovenia and England (placement at Crufts), has won many CACIBs and was often Best of Breed.
He is Best in Show winner, European Junior Winner, European Winner, 3 times Austrian Winner, Austrian Spaniel of the Year, and carries a long list of champion titles.

Marlon passed an Obedience test and is a very passionate hunting dog.

The boy has up to now successful progeny in the showring and in the fields in 6 different countries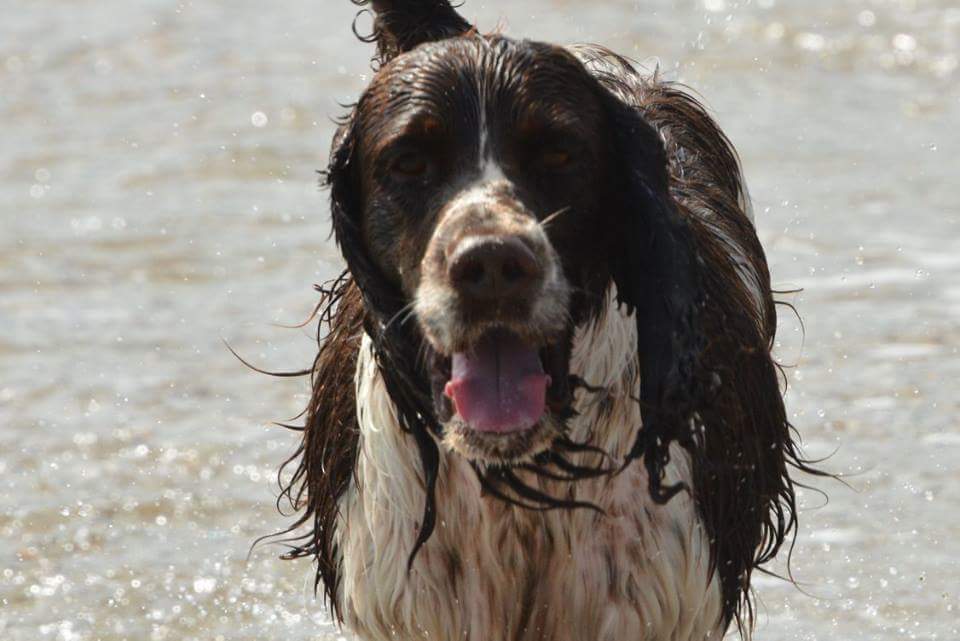 Moni was up to now shown 8 times in Austria, Germany and Slovenia. She won each time her class with excellent 1, & CAC, has won 3 CACIBs & Best Bitch (BOS) and has a Crufts Qualification
Moni passed the hunting test with a first price and an obedience test.
Our "I - litter "will be Moni's first litter.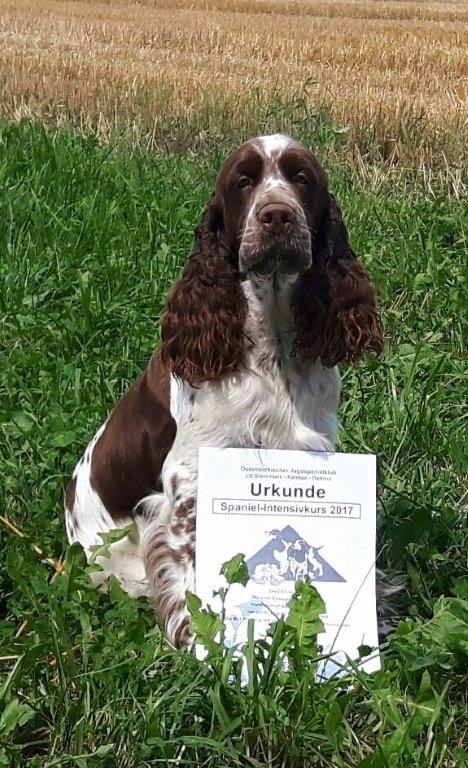 For more information about Moni and Marlon, please check their own pages!
| | |
| --- | --- |
| | |
| | |
| --- | --- |
| | |
| Moni | Marlon |
The pedigree of the planned litter:
Int. Ch, Dt. Ch. (Vdh & Klub), A.Ch.
E'Sgr. B'Sgr, EJSgr. BIS

BH

Winterwater Creek's Great Britain Made






HD: A
Augen frei von allen erbl. Erkrankungen inkl. Gonio okay
Sh. Ch. Crufts Winner, JW, Show Certificate of Merit

Dexbenella It's About Time





HD: BVA 5/4 (FCI: B1)




Sh. Ch. Crufts Winner
Nord. Ch. NV

Barecho Hold your Horses at Peasblossom


Sh. Ch.
Trimere Total Devotion to Dexbenella

Int. Ch. Dt. Ch. (Vdh & Klub), A. Ch. PL. Ch. Bundessieger Klubsieger
BIG, BIS

Dummyprüfung Beginner 1. Platz

Winterwater Creek's Dancing Queen



HD: A

Sh. Ch.

Trimere Trading Places with Sheledams

Int. Ch; S.-Ch. A-Ch. E'Sgr. B' Sgr. BIS

AP 2a Preis

Trollängens SHE




Caca, CACIB, Anw.Dt.Ch. (Vdh & Klub), CAC-SLO
Crufts. Qual. BOS

BH, Anlangenprüfung 1. Preis

Moni od Stroupinskeho Potoka





HD: A
Augen frei von allen erbl. Erkrankungen inkl. Gonio okay

CZ. Ch. CACIB, KV, BOB, BIG

Anlagenprüfung 1. Preis

Harri od Stroupinskeho Potoka




HD: A
Int. Ch. PL-Ch.
Night Prince Avendesora

AP

CAC
Cedra od Stroupinskeho Potoka

AP, EAP

CZ Ch. CACIB, KV, BOB
Anlagenprüfung 3. Preis

Beatrix od Jakubskeho rybnika



HD: A
Int. Ch; CZ-Ch. Dt Ch. Vdh. A.Ch.
Buxus of Klamargarden

AP / EAP


CAC
Adina od Jakubskeho rybnika
If you are interested in a puppy out of that very promising combination
please contact us for further information
Email: billenschitz@aon.at

---
Our puppies are:
dewormed after an exact plan

vaccinated (against Distemper, Hepatitis, Leptospirosis, Parvovirosis & Kennel Cough)

marked with a Micro Chip

equipped with an EU-Pet Passport, FCI-Pedigree and Health - Certificate
---
The first visit to the garden: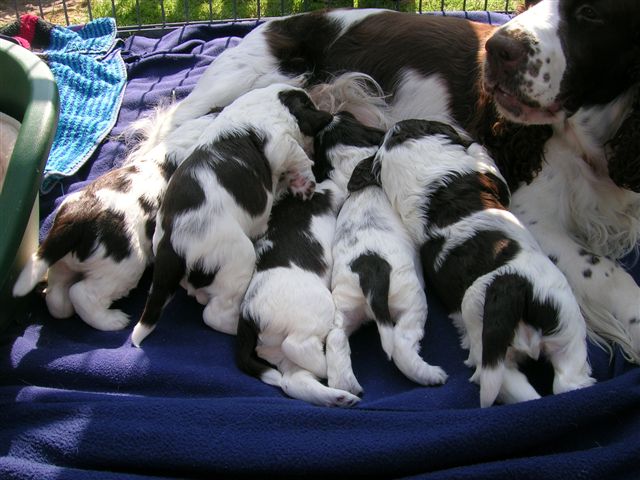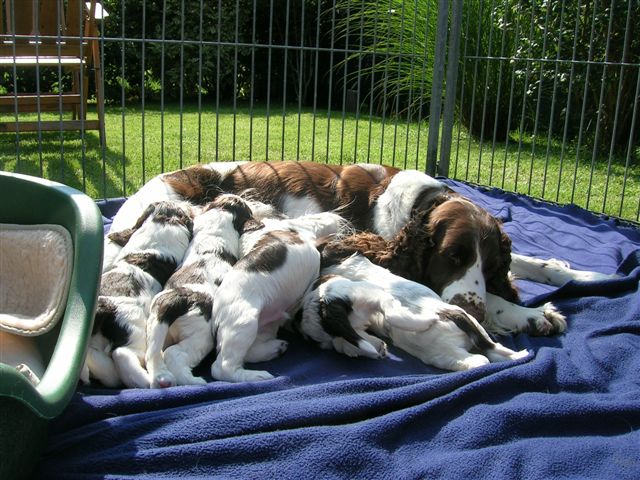 Winterwater Creek's puppy - playground: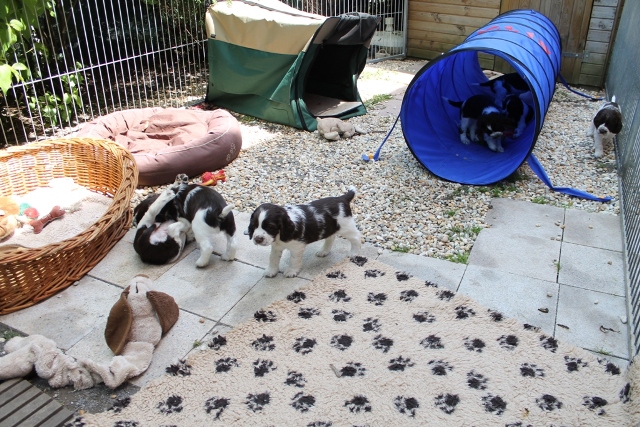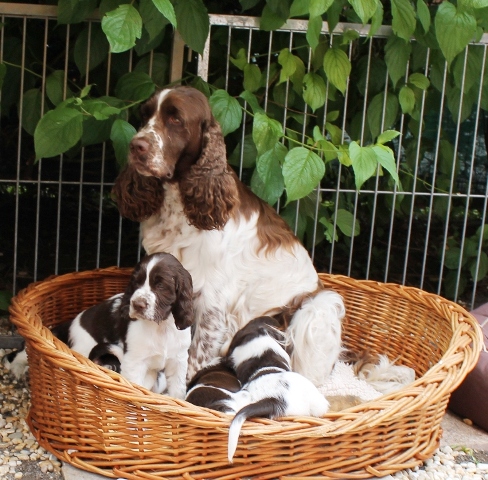 The "wintergarden": :
The home of the Winterwater-Creeks puppies starting with the age of 3,5 weeks: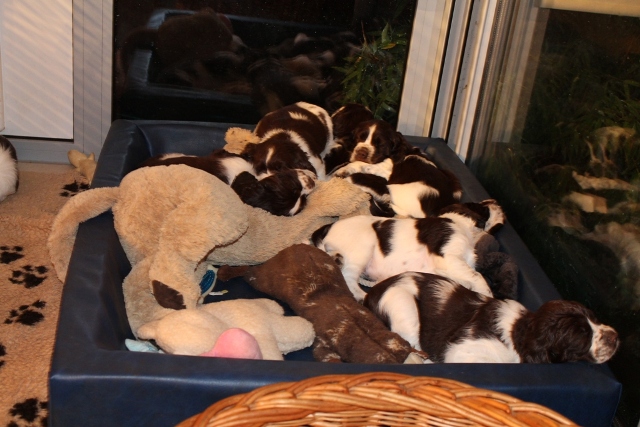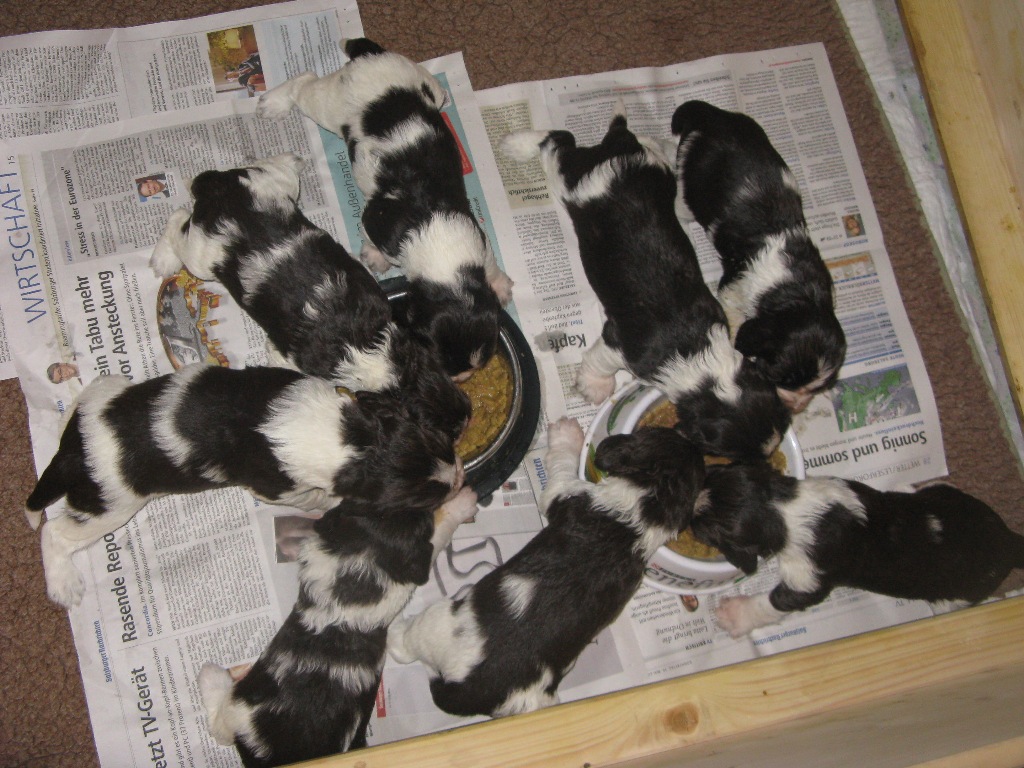 "Relaxing" after an exciting day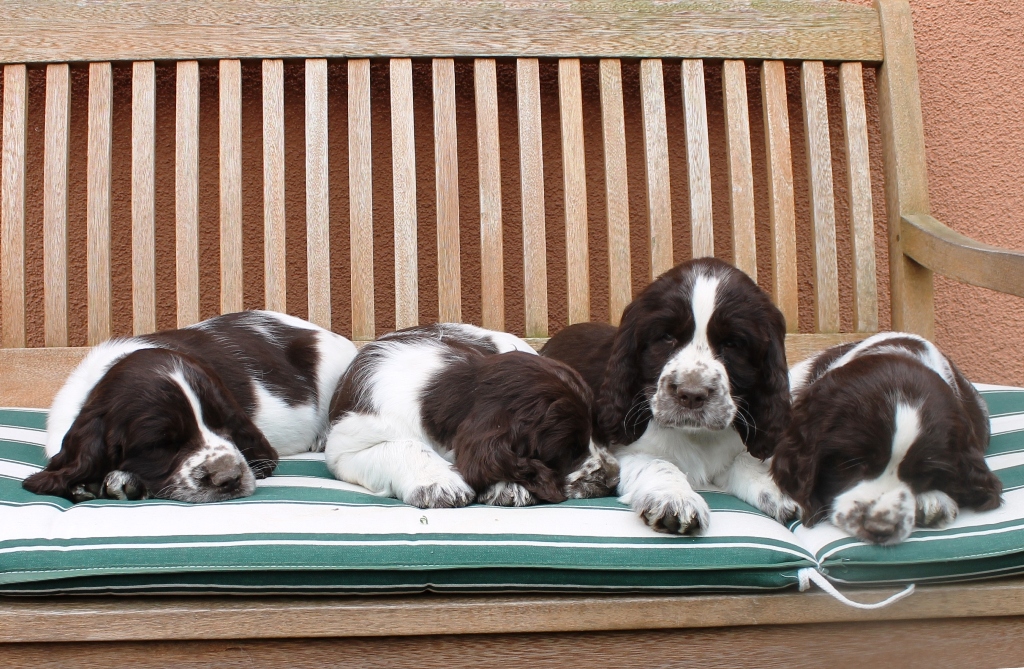 ---