---
---
The ultrasound -check confirmed that Katie is in whelp after Messi

The puppies are expected around May 27, 2019
We are very happy and excited!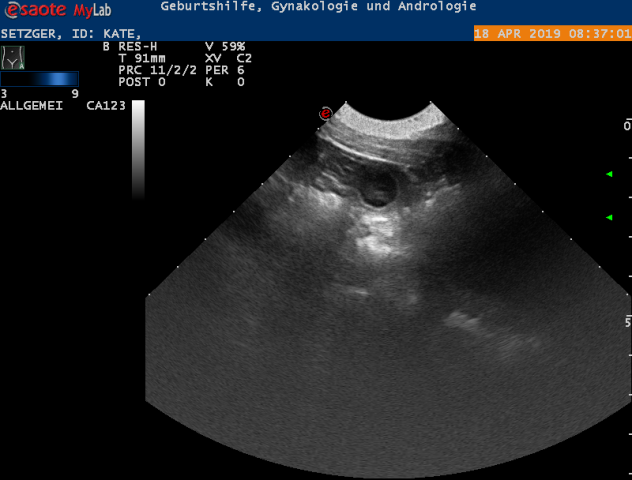 Massive thank you to Jessie, Kaj and Vibe Madsen for the great help and for the oportunity to use wonderful Messi.
We are hoping for healthy & beautiful puppies with excellent temperament (for work, show and companion)

All colours are possible in that litter.
Ch. Sieger's Money Talks
Messi

Ch. Winterwater Creek's Hell's Angel
Katie

Health:

Hips: A (best possible)
Eyes: clear of all hereditary eye diseases
PRA Cord 1: free (no carrier)
Fucosidose: free (no carrier)


Shows:

World Winner 2018
European Winner 2018
Crufts Winner 2016
Swedish Winner 2017

Danish Champion, Swedish Champion
C.I.E (International Show Champion)
Nordic Winner
Multi Best in Show Winner

Sucessfully passed working tests:

blood tracking test: first price
Health

Hips: A (best possible)
Eyes: clear of all hereditary eye diseases
PRA Cord 1: free (no carrier)
Fucosidose: free (no carrier)

Shows:

Austrian Youth Champion (ÖKV) , Austrian Youth Champion Club
Austrian Champion, Clubchampion
Club Youth winner 2017
Clubwinner 2017

CACIB, BOS

Sucessfully passed working tests:

Hunting Ability Test: first price (Res.CACT),
Obedience Test Basic
Obedience Test 1 (very good)
GAP 3 (very good)
Dummy Test: Beginner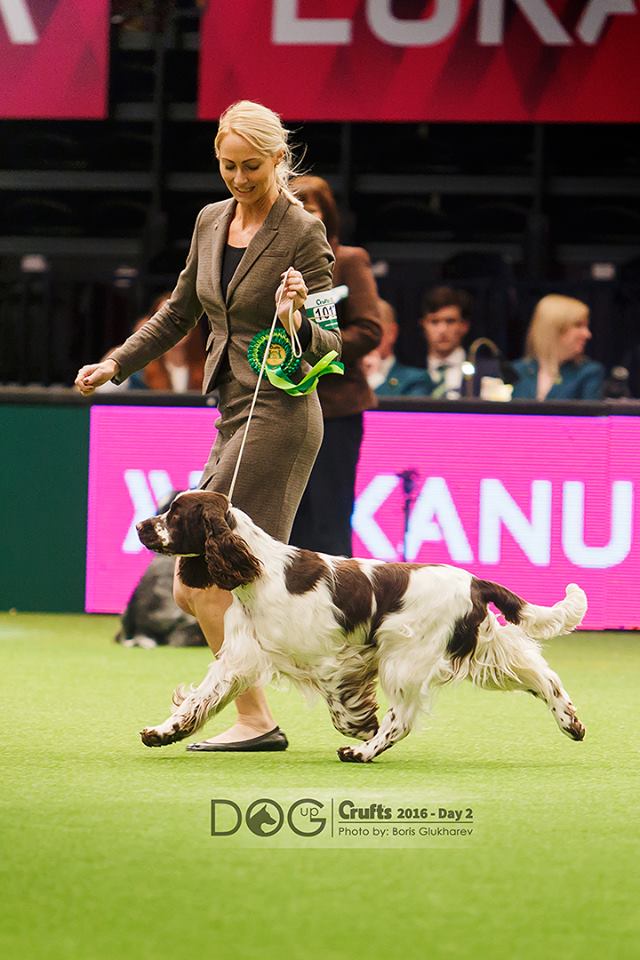 Messi Best of Breed at Crufts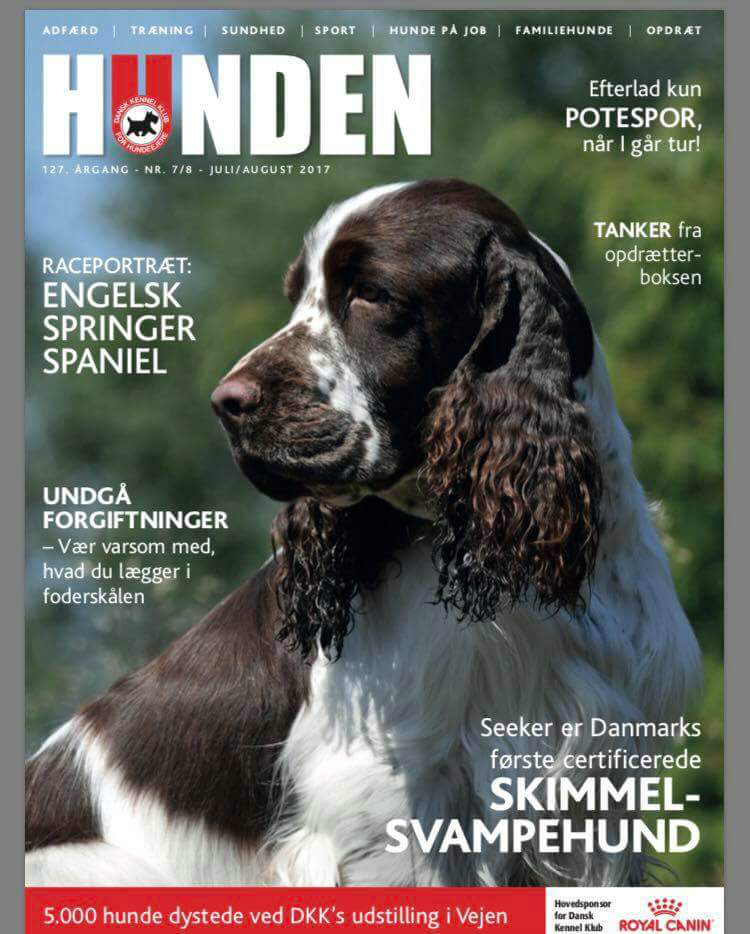 Messi on the cover of the Danish Kennel Club magazine
Messi at the training - and after the successfully passed hunting test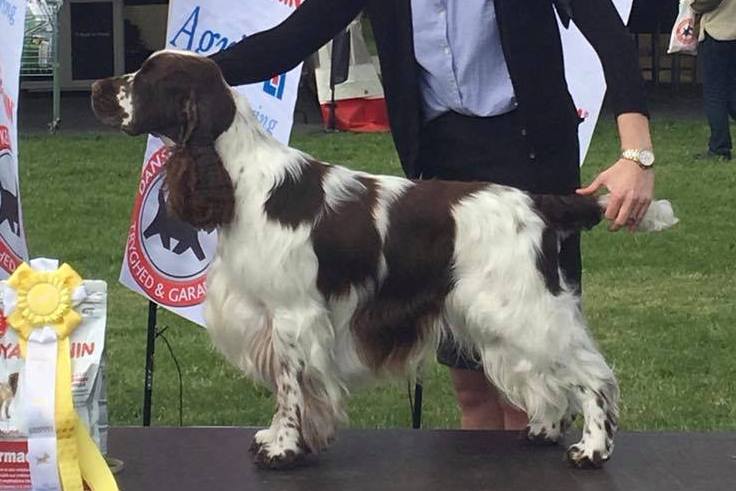 Messi, successful in the show ring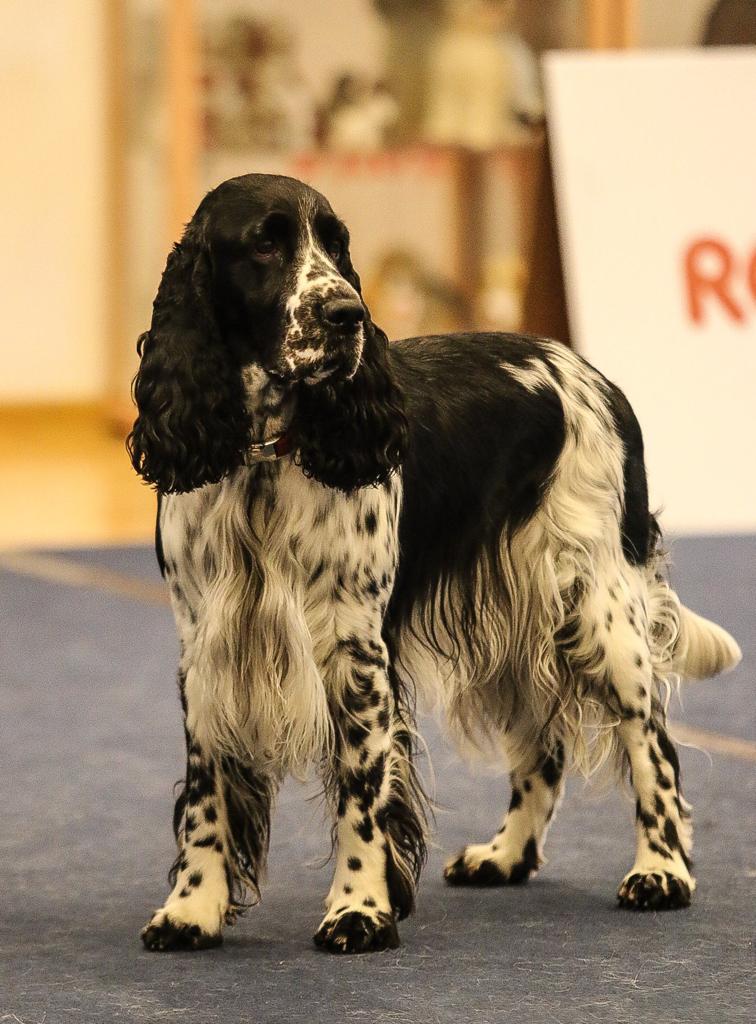 f
beautiful Katie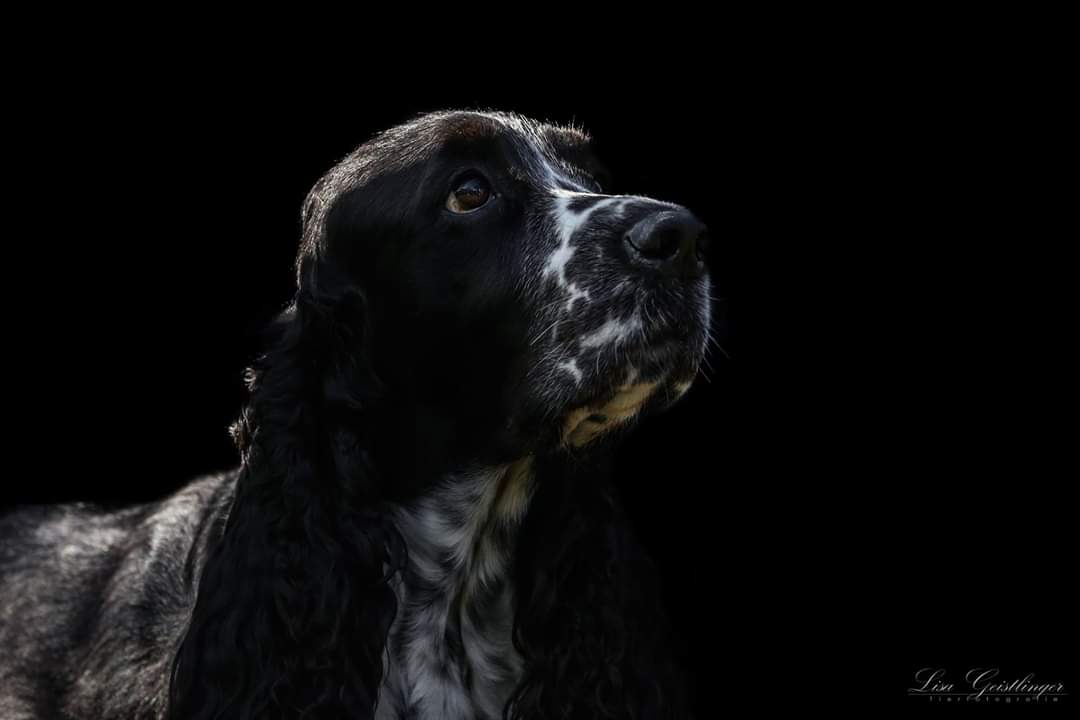 Katie's lovely head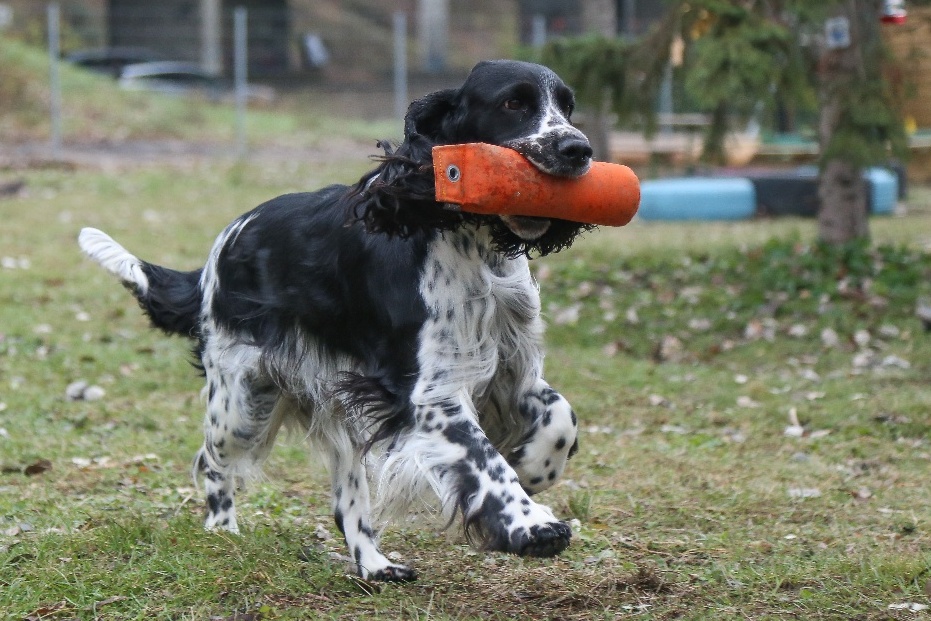 Katie loves to retrieve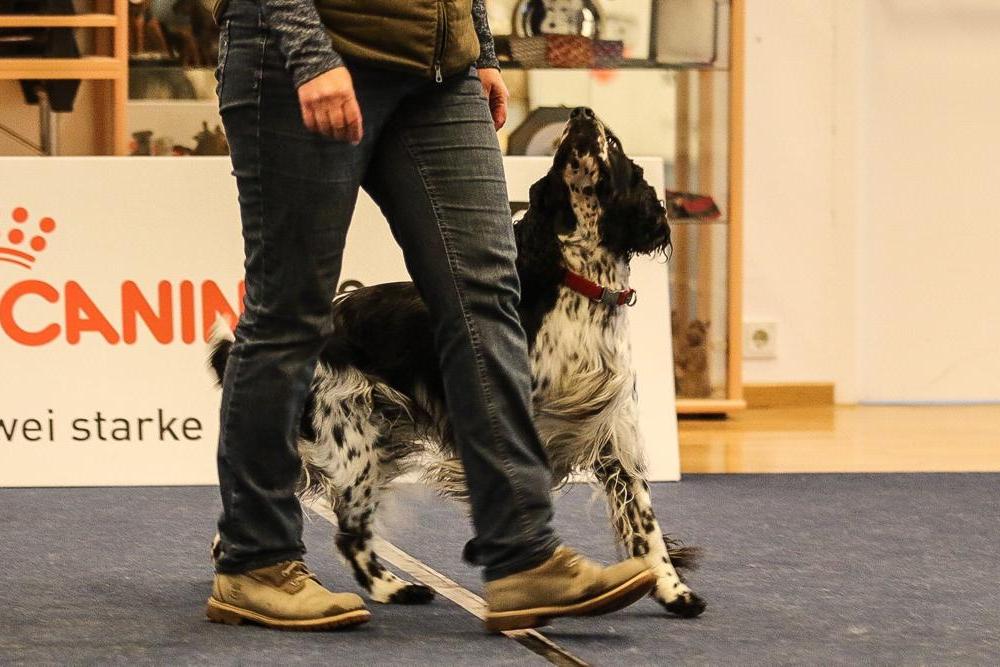 Katie at obedience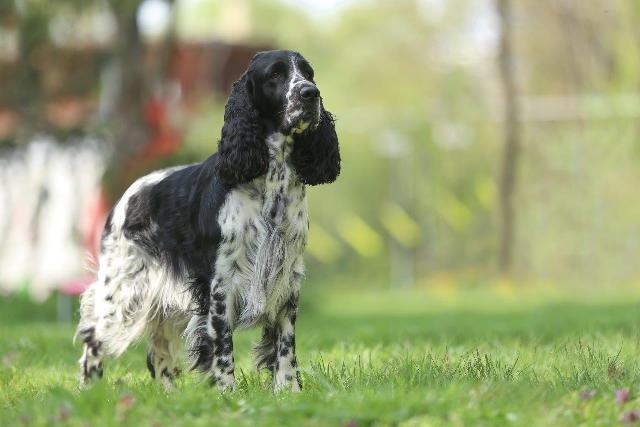 A lovely black & white girl
The pedigree of the planned litter :


C.I.E S.Ch. Dk.Ch. Nord V
W'sgr, E'Sgr, Crufts Sieger

Sieger's Money Talks

Hips:A

liver/white
C.I.B, C.I.E. S.Ch. PL Ch. W.Sgr.

Linmoor Zimply Zalient
Hips: A, liver/white/Tan
N. Ch, S. Ch.
Linmoor Wave For Success
Fairsky Arc De Triomphe
Nobhill Modern Talkin'
S. Ch.
Linmoor Valuable Crystal
Whisborne Clansman
Mycock's Quarz Crystal
S.Ch, Dk. Ch.

Sieger's Suppose So
Hips: B, liver/white
C.I.E. SVCh. S.Ch. Nord. Ch
Trollängens Maximum Effect
Goldmoore Good as Gold
Trollängens Next Trip
C.I.E. S.Ch. Dk.Ch. W'Sgr-
Sieger's Extra Point
Spring Creek's Jolly Jumper
Sieger's Freaky Friday
Ö.Jugend Ch; Klub Ch.
Klubsieger, CACIB

Winterwater Creek's Hell's Angel

Hips: A

black/white
C.I.E. Dt. Ch. Vdh & Klub

Dexbenella Sirius Black
Hips: A, black/white
Res. CC
Rianlas in the Black at Beresford
Calmolly Peter Piper
Thankerton Barista
Sh. Ch.
Dexbenella Inquisitress
Barecho Hold your Horses at Peasblossom
Trimere Total Devotion to Dexbenella
C.I.E. A.Ch. Dt Ch. Vdh & Klub, PL-Ch

Winterwater Creek's Dancing Queen
Hips: A, liver/white
Sh.Ch.
Trimere Trading Places with Sh.
Mompesson Royal Destiny
Trollängens Time and Again
C.I.B. C.I.E, S.Ch. A.Ch. E'Sgr
Trollängens SHE
Barecho Fun for the Future
Trollängens New Tricks
If you are interested in a puppy out of that very promising combination
please contact us for further information
Email: billenschitz@aon.at
Mobile: +43 664 99 252 73

---
Our puppies are:
dewormed after an exact plan

vaccinated (against Distemper, Hepatitis, Leptospirosis, Parvovirosis & Kennel Cough)

marked with a Micro Chip

equipped with an EU-Pet Passport, FCI-Pedigree and Health - Certificate
---
The first visit to the garden: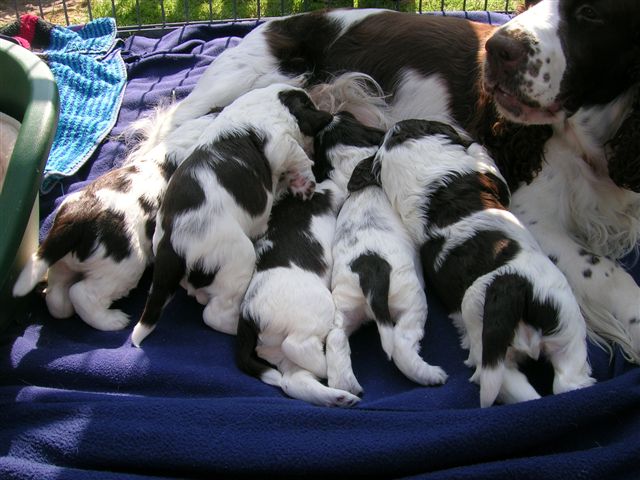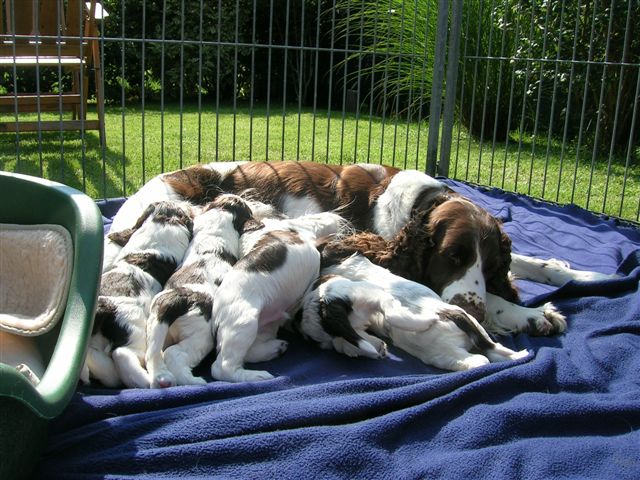 Winterwater Creek's puppy - playground: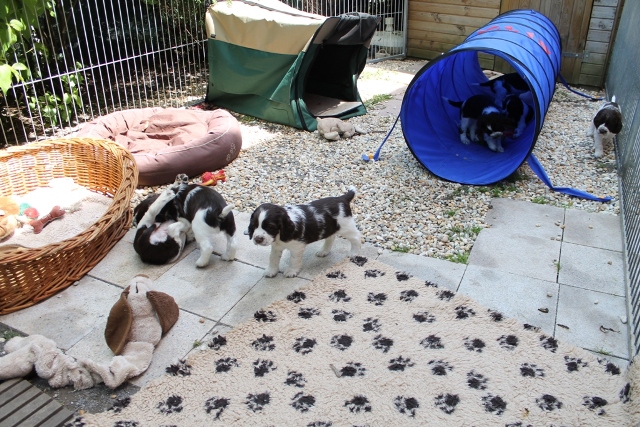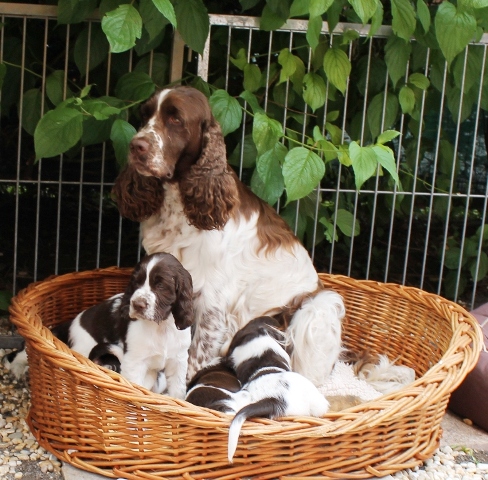 The "wintergarden": :
The home of the Winterwater-Creeks puppies starting with the age of 3,5 weeks: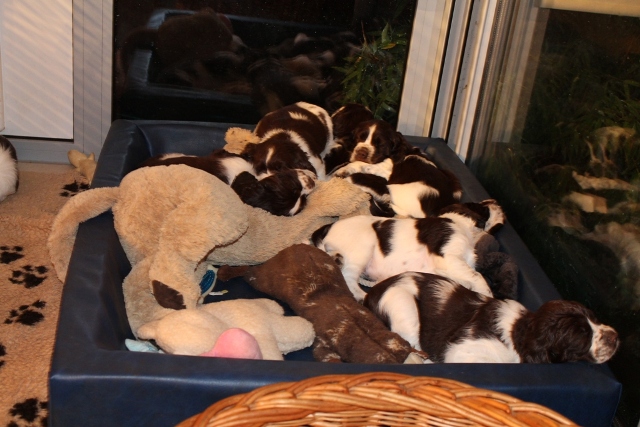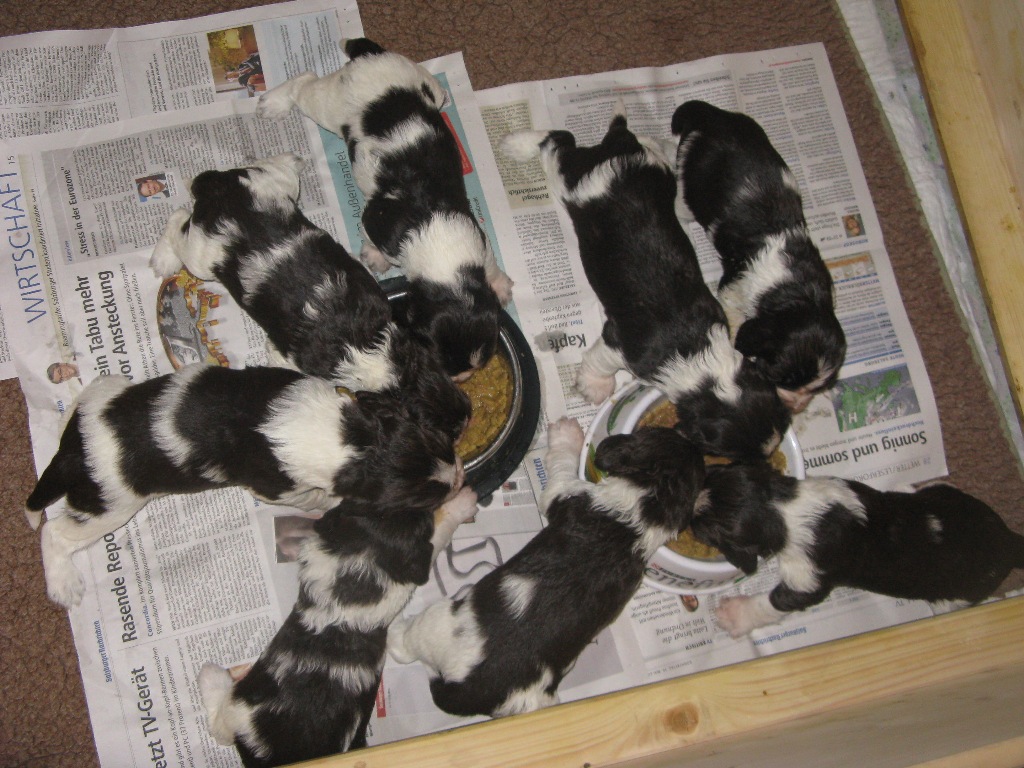 "Relaxing" after an exciting day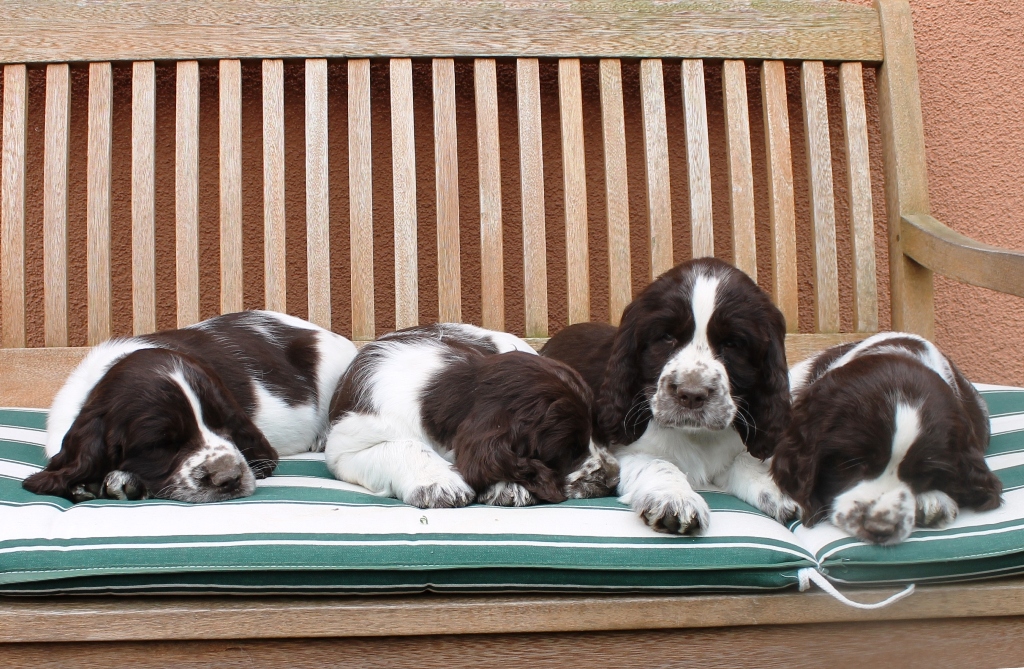 ---